The REALTOR® Association of Pioneer Valley recently released the July, 2018 stats for Pioneer Valley. I thought I would walk through how I look at and analyze these monthly reports…
Hampden County Single Family Report

The first thing I look at is Closed Sales (YTD) to see how we are doing. I prefer the YTD number because one month can be impacted by too many factors. Sales are up 3.3% compared to the same period last year. That's impressive and a continued good sign as to the overall continued strength of the housing market. It's even more impressive because I know that 2017 was the largest sales volume year we've had since I started tracking in 2000. You can see the history at the Sears Report blog post.
Second, I want to know what all of you want to know… Did the value of my home go up? The answer is very much Probably Yes when you look at the Median Sales Price (YTD). Not only is the Year to Date Median Price up 6.7% year over year, but continues to rise to historic highs. The previous high for Hampden County was $192,000 back in 2007.
What's the latest immediate trend? Looking at the Pending Sales (July) we saw an increase of 21.0% compared to July, 2017. Typically July (and especially August) can see a seasonal dip due to vacations and let down after a busy spring market. 2018 bucked that trend and bucked it by a large margin.
Which is all the more impressive because the Inventory of Homes for Sale (July) was down 19.9% and the current Months of Supply (July) is down to a crazy 3.0 months. Buyer's need to be aware of these stats and understand they need to be very active in their home search and work closely with their agent to monitor the market on a daily basis and act quickly. Buyer's need to also make sure they have all their paperwork all set and ready to put in quick and strong offers. I also look to see if we have more sellers that trust and enter the real estate market by looking at New Listings (YTD) – 2018 has seen a slight increase in listings which is a positive sign.
CHARTS – This picture is certainly worth a thousand words. Hampden County continues to be the affordable option within Massachusetts. You can see that while we don't go as high and crazy as Boston, we also don't see the devastating dip in the tough times. Interestingly, since 2000 Hampden County has averaged a 2.95% annual increase in median home price – which is reasonable and sustainable.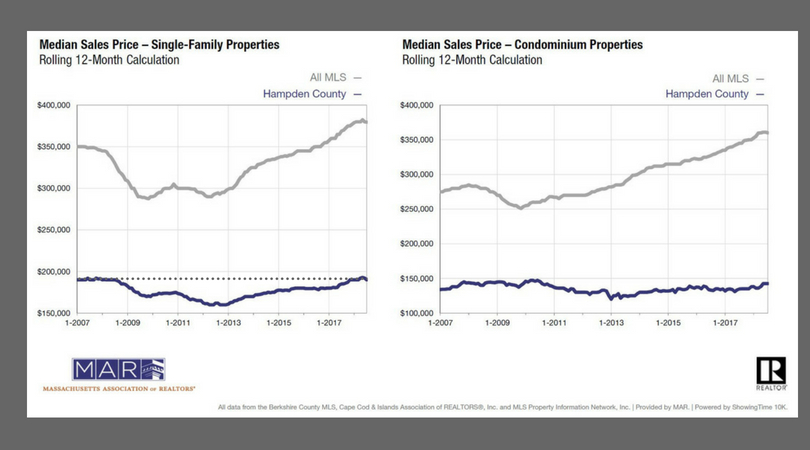 CONCLUSION – It's great looking at the more global stats, but if you'd like to get an idea of what you home is worth – give us a call or just click our Home Worth link. We'll show you the County Stats, City Stats, and Neighborhood Stats. And then do an appraisal style CMA (Current Market Analysis) Report for you.